NATIONAL INDIGENOUS ARTIST ROSTER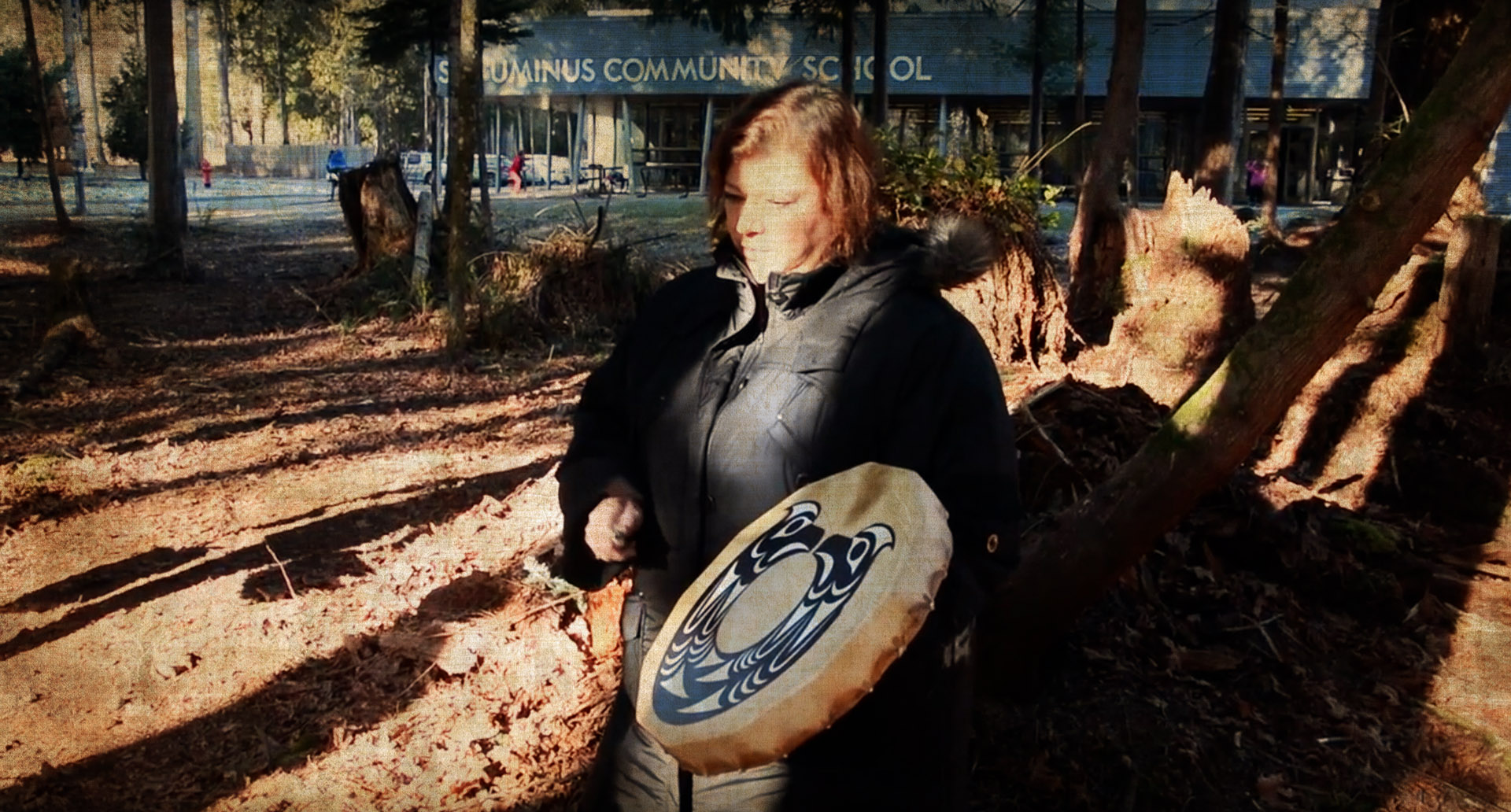 National Indigenous Artist Roster
Our National Indigenous Artist Roster features artists/Elders from many Nations and art forms across Canada.  These artists/Elders are available to share stories, lead activities, answer questions and provide online support for teachers and students both in the classroom via skype or zoom.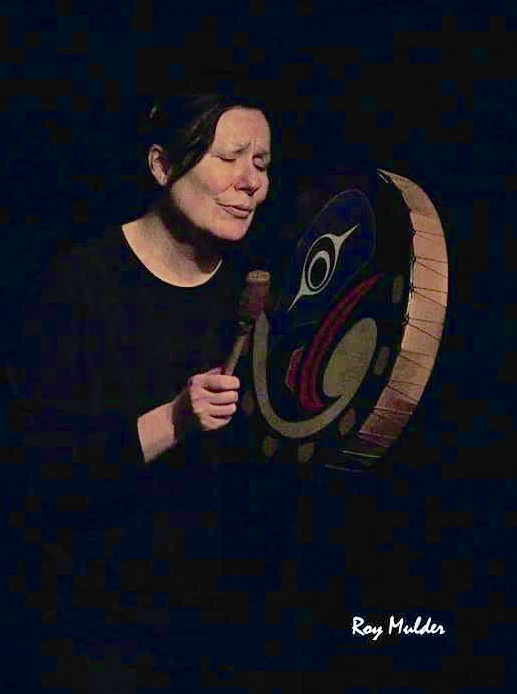 Shelley MacDonald
National FNMI program leader for the Royal Conservatory's Learning through the arts program.
Shelley is the National FNMI program leader for the Royal Conservatory's Learning through the arts program.   She is an award winning performing artist, educator, and filmmaker who is Mi'kmaq( Eel River New Brunswick)  and Scottish Ancestry. She has over 20 years experience as an artist/educator and has partnered with different school districts, universities, artists, Elders, television networks, film productions and community organization across Canada.
Shelley co –founded an Aboriginal Mentorship program for young women in partnership with Simon Fraser University in December 2003.  The Girlz group has completed three films. Trailblazers, Girlz n the hood, and Mental:  The power within our stories.  These films have screened at different conferences, including the World Peace forum for the United Nations, and on APTN.  She has appeared on the television series, Cold Squad and Master's of Science Fiction.  She won Best Actor in BC's Reel Fast 48 hr film festival and has received the Keith Prevost award from the Cold Reading Series for her Community Arts projects.  She most recently appeared in Surrounded by Owls Upcoming Production of " The Gift with BC Coast Salish Artist John Aitken.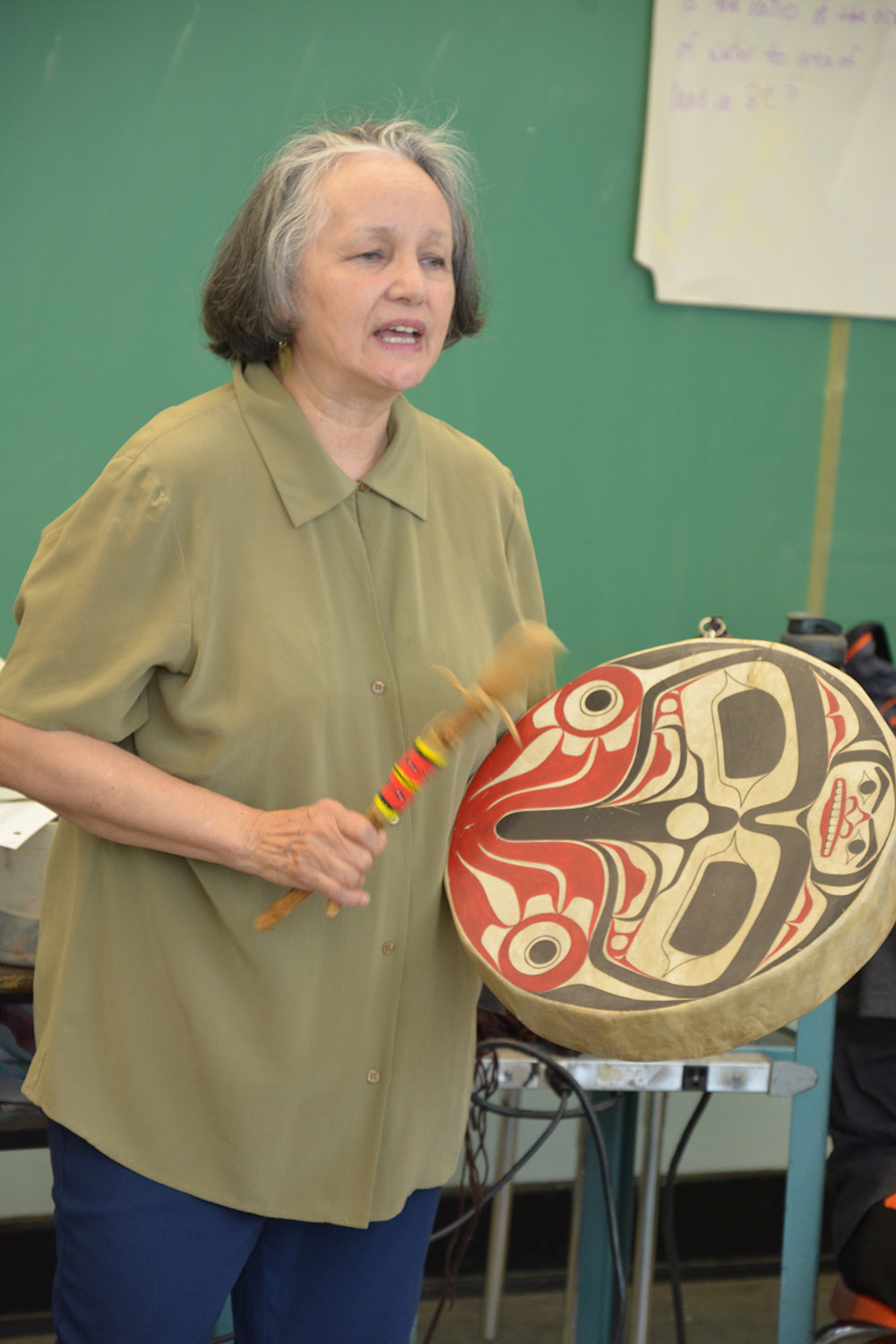 Elder Nk'xetko (Mary Jane Joe)
ELDER
Mary Jane Joe is a member of the Ntle'kepmx  Nation one of five Interior Salish tribes in central B.C.  She sings, drums, and is a storyteller and quilter.  She just retired in April 2016 from teaching  Aboriginal Studies at Langara College where the main topics included culture, identity and community.    Mary Jane is a survivor of the Kamloops Indian Residential School.  She discovered that traditional culture, language and the arts have been like medicine that brings healing.  A trained teacher, Mary Jane not only lectures on First Nations history, residential school life and traditional culture, she assists in lesson planning and curriculum development. She is part of our Design |Media Arts program, where she visits classrooms virtually sharing her culture in classrooms across Canada using skype. She is proud to be an Elder in Residence for the Royal Conservatory's Learning through the Arts Program.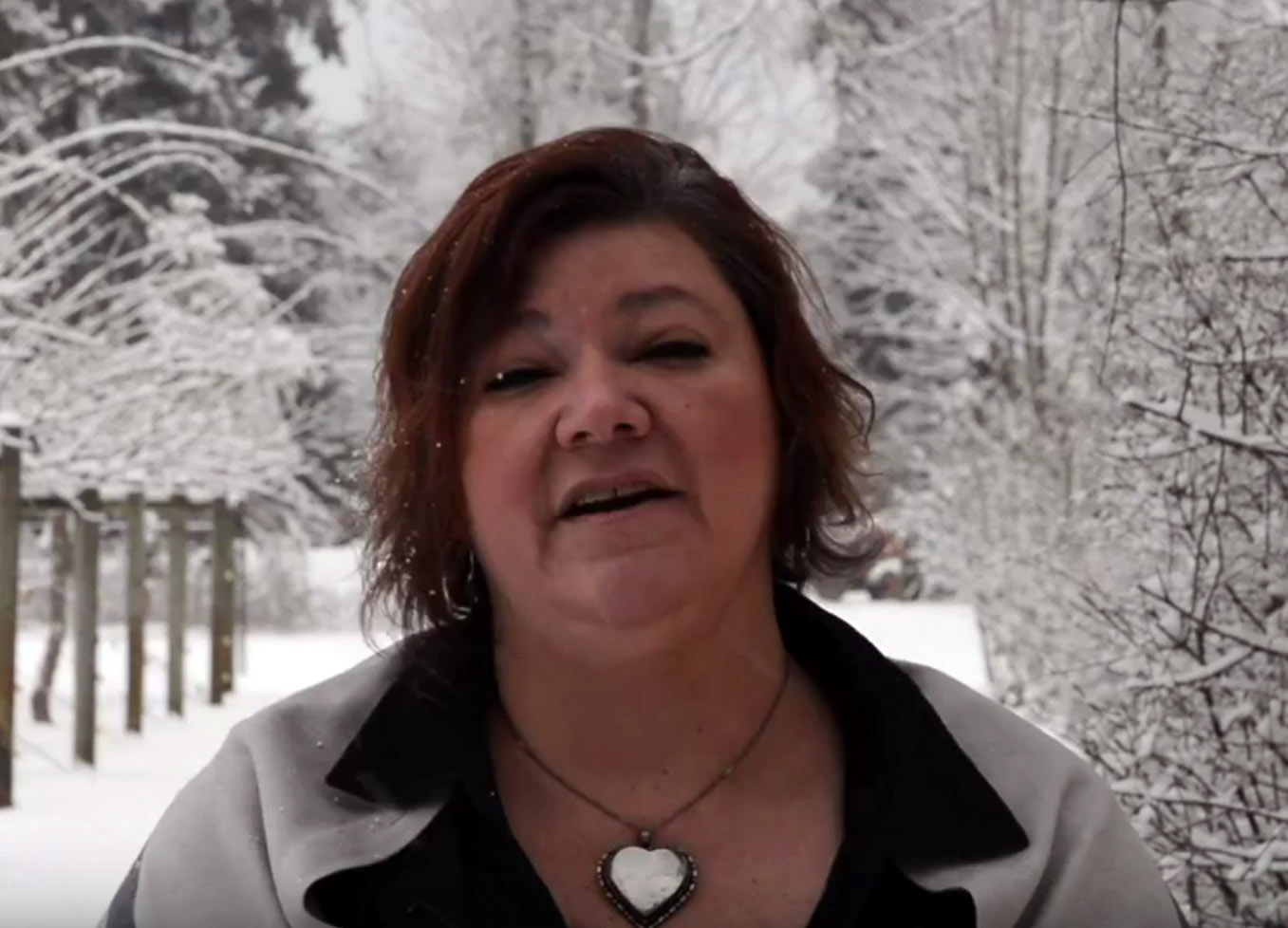 Candice Halls-Howcroft
Artist
Candice Halls-Howcroft is an artist from the Sḵwx̱wú7mesh Nation, British Columbia

Candice Halls-Howcroft from LTTA on Vimeo.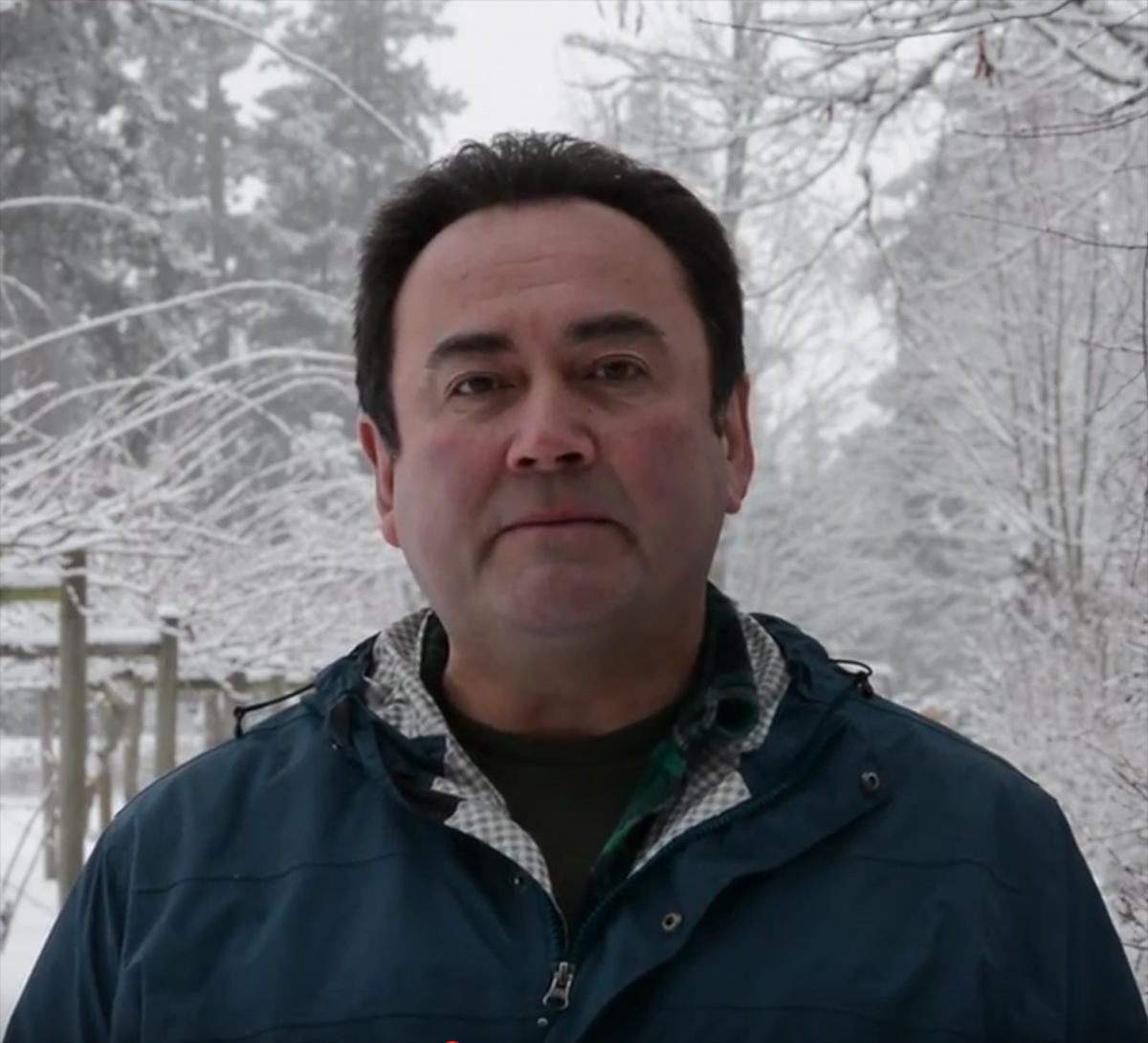 John Aitken
Artist
John Aitken is a physical actor, carver, film-maker , photographer and educator. John's mixed ancestry includes Coast Salish, Scottish and Haida. John self identifies as First Nations. John has been a member of Stages Dance Company in Victoria BC and has also danced/performed extensively with renowned contemporary dancer, Lynda Raino also from Victoria BC.
He produced and directed a short documentary while employed at the Victoria Native Friendship Centre called Breaking the Silence of AIDS and also directed a short documentary for the Songhees Nation called Diabetes: Then and Now. With both of these projects he included Aboriginal youth from local reservations and from the urban setting. Having youth involved, when possible, is important to John.
As a wood carver, John's highlight has been carving a twenty foot  figure called a Honouring Figure which is based on a traditional Coast Salish Welcome figure. This stands on a CRD park on Mayne Island named after his Grandparents, Emma and Felix Jack to honour them and all other Coast Salish people who lived and still live in this area.  It is also a good reminder to residents and visitors of the rich First Nations history on the island.
Current projects include the development and production of a performance art piece titled the Gift based on John's challenging child-hood. He is currently working on a script for a solo performance which will explore what it is like for him being of mixed ancestry titled Mixed up! Also, he is working on an educational video piece addressing the Anglican Church's commitment to healing from the residential school experience which is linked to the Truth and Reconciliation movement.  This piece will be used as an educational tool in his local school district.
As a person of mixed ancestry he is fully aware of the 'Cultural Egg Shells' many of us simply avoid or  gingerly tip toe through. All his work reflects a desire for all to accept that we are all very different and very much the same, at the same time. John considers himself a cross cultural bridge builder, a life time occupation he takes very seriously with a lot of humour!
John Aitken from LTTA on Vimeo.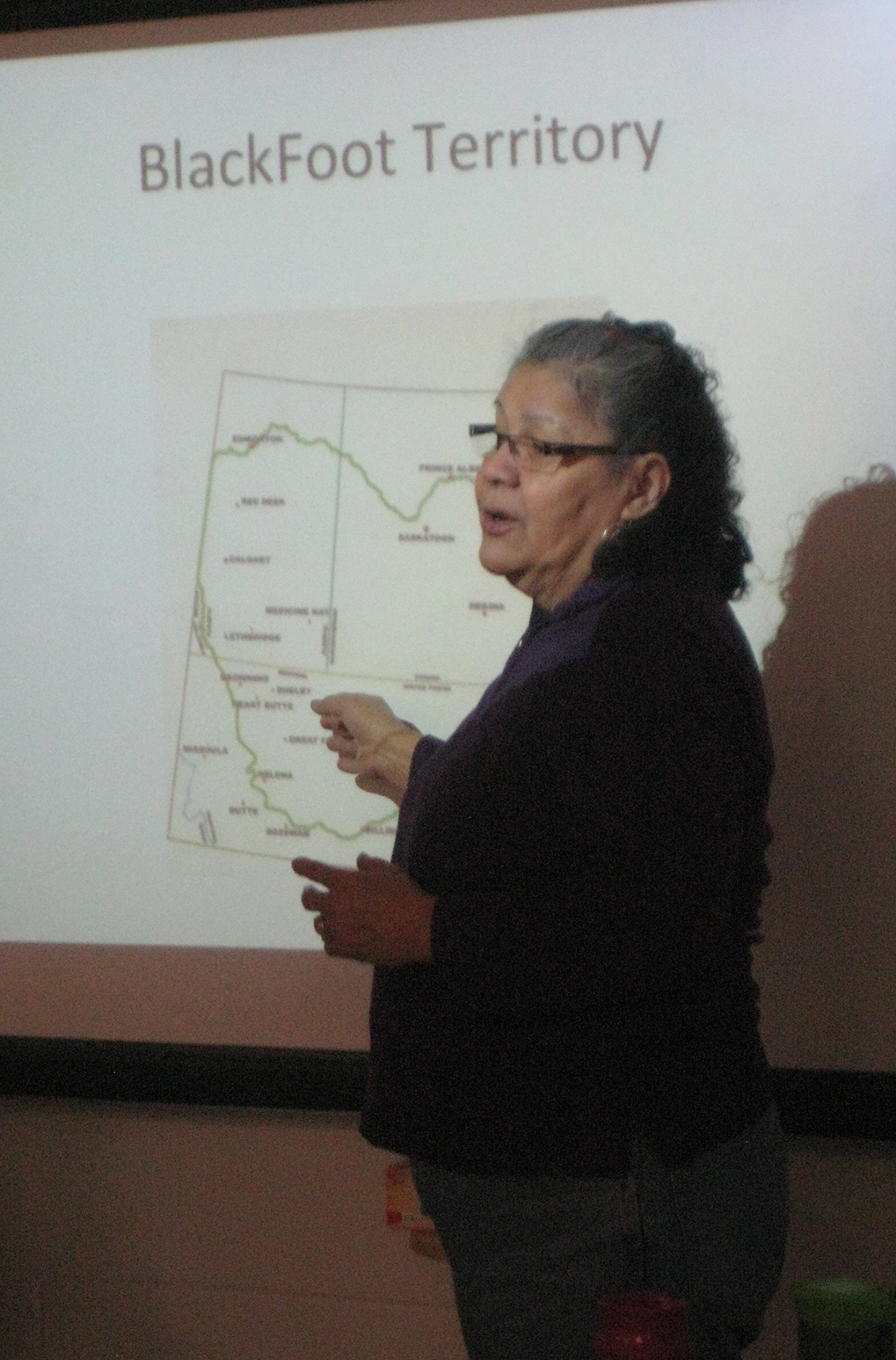 Elder Issapaakii (Hazel Derange)
Elder
Elder Issapaakii (Hazel Derange) is from the Piikanii Blackfoot Confederacy in Southern Alberta. Her traditional name is Issapaakii which means Crow Woman. This is the name given to her by her Grandmother. She has spent her career working with Aboriginal People. She is the proud mother of 5 sons, the grandmother of 18 grandchildren and great grandmother of 3. She has been married for 46 years to Freddy who is Dene and they live in Fort McMurray.  In 2009 she received the Esquoao award for her work in education and in 2012 she won Elder of the Year in Fort McMurray at the Ra Ra awards.  She is proud to be part of the Royal Conservatory¹s Learning Through the Arts Elder in Residency program which she helped to create and develop. She has lead workshops about Aboriginal Culture and the impact of residential school for the Banff Centre, Keyano college, Vancouver school board and for INDspire.  She has travelled to Thunder Bay Ontario to meet with Elders and help the Lakehead school district develop their own Elder in Residence program.  Her wish is for our Aboriginal children to know their culture, tradition, history and language.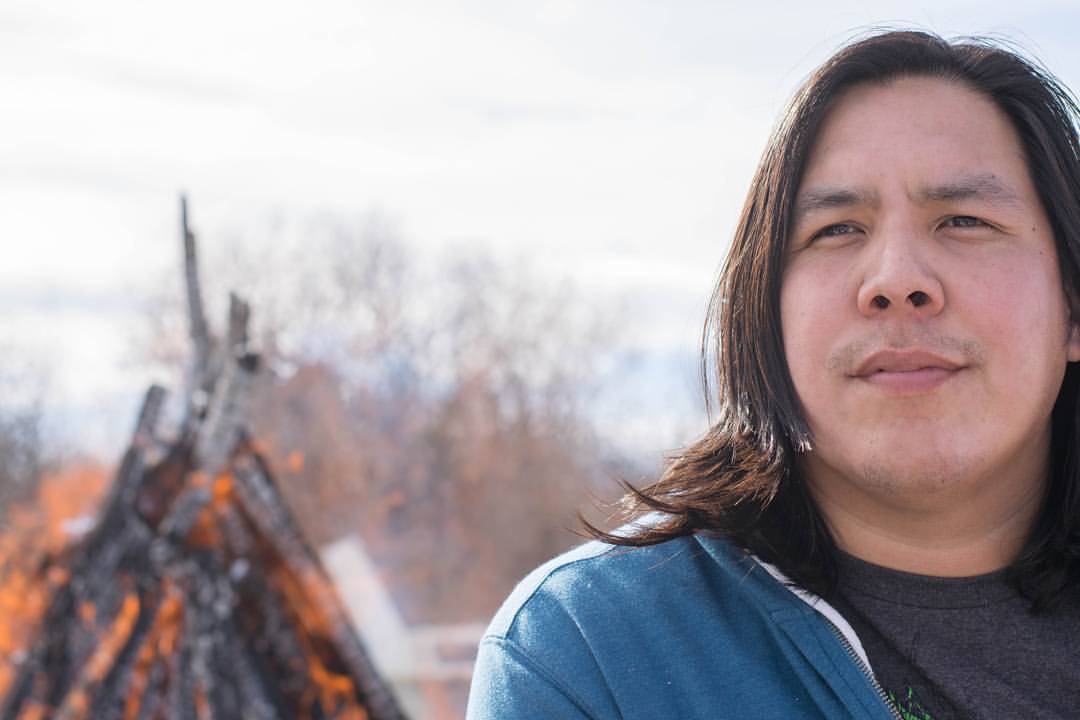 Gitz Crazyboy
Artist
Gitz ( Blackfoot, Dene) is a Calgary based artist-educator who specializes in land-based arts. He integrates his knowledge of the land and wilderness survival to all curriculums through metaphor, storytelling and hands-on activities. In his previous role as the LTTA FNMI coordinator in Fort McMurray, he helped to build an after-school program in three schools and also worked to bring First Nations culture into all of the classrooms for both the public and Catholic school districts. Gitz is the project lead for LTTA Fort Chip and has been for the last two years. . Gitz also is a host and writer for Vice Communications.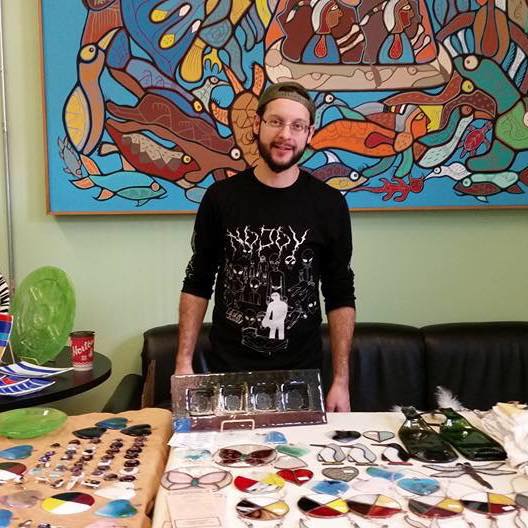 Nathan Adler
Artist
Nathan Adler is a writer, artist, and filmmaker. His novel Wrist, an Indigenous monster story, is published by Kegedonce Press http://kegedonce.com/bookstore/item/73-wrist.html (August 2016). He has also had several short stories published; The Ghost Rattle, in The Playground of Lost Toys (Exile Dec. 2015), Tyner's Creek in Those Who Make Us ~ Canadian Creatures, Monsters and Myth (Exile 2016); and Valediction at The Star View Motel, in Love Beyond Body, Space, and Time, (Bedside Press 2016). He is an MFA candidate in the Creative Writing program at UBC and works as a glass-artist. He is also working on a collection of short-stories, an anthology, and a second novel. He is Anishinaabe and Jewish, and a member of Lac Des Mille Lacs First Nation.
[email protected]
https://www.facebook.com/nathan.adler1
https://nathanadlerblog.wordpress.com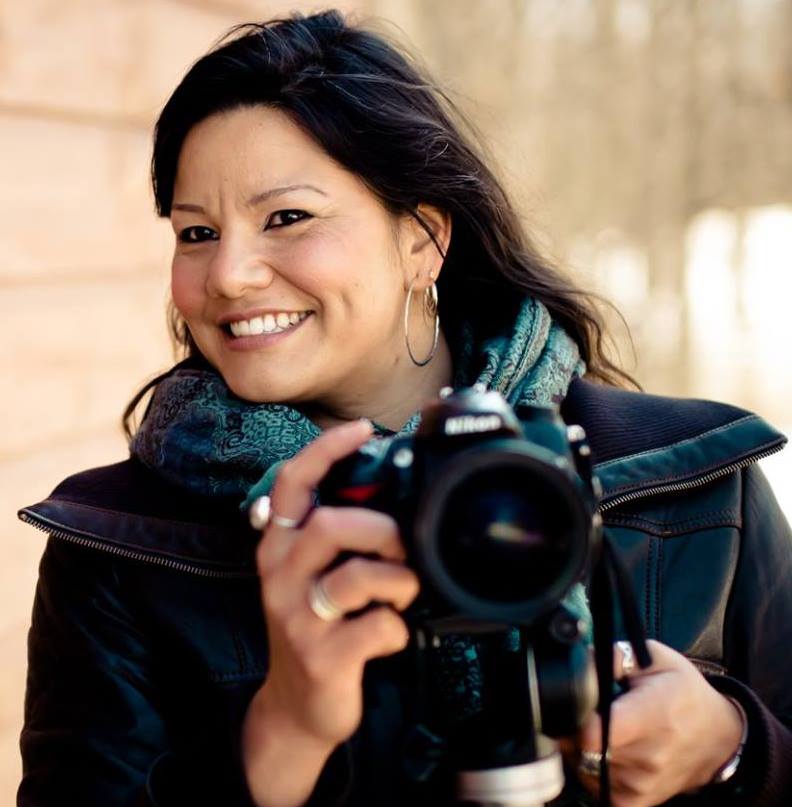 Candace Maracle
Artist
Candace Maracle: is Wolf Clan from Tyendinaga Mohawk Territory. An Indigenous filmmaker and journalist, she graduated with her masters degree in journalism from Ryerson University where she received the CanWest Scholarship for Aboriginal Youth in Broadcast Journalism and the James H. Carter Memorial Scholarship. Her work as a journalist includes reporting for the APTN's National News and producing for CBC Radio's "The Current" and "As It Happens." Her award-winning documentary, "The Creator's Game: The Quest for Gold and the Fight for Nationhood" addresses the issue of Indigenous sovereignty and is most recently being broadcast in the U.S. and on Australian television. She is studying Kenienke'ha, an endangered language, so that she can include her Native tongue in her work including her most recent documentary. "The Grandfather of All Treaties," premiered this past fall at the 2015 imagineNATIVE Film + Media Arts Festival and is currently in the film festival circuit. She speaks regularly about her work on Reporting In Indigenous Communities at universities and colleges.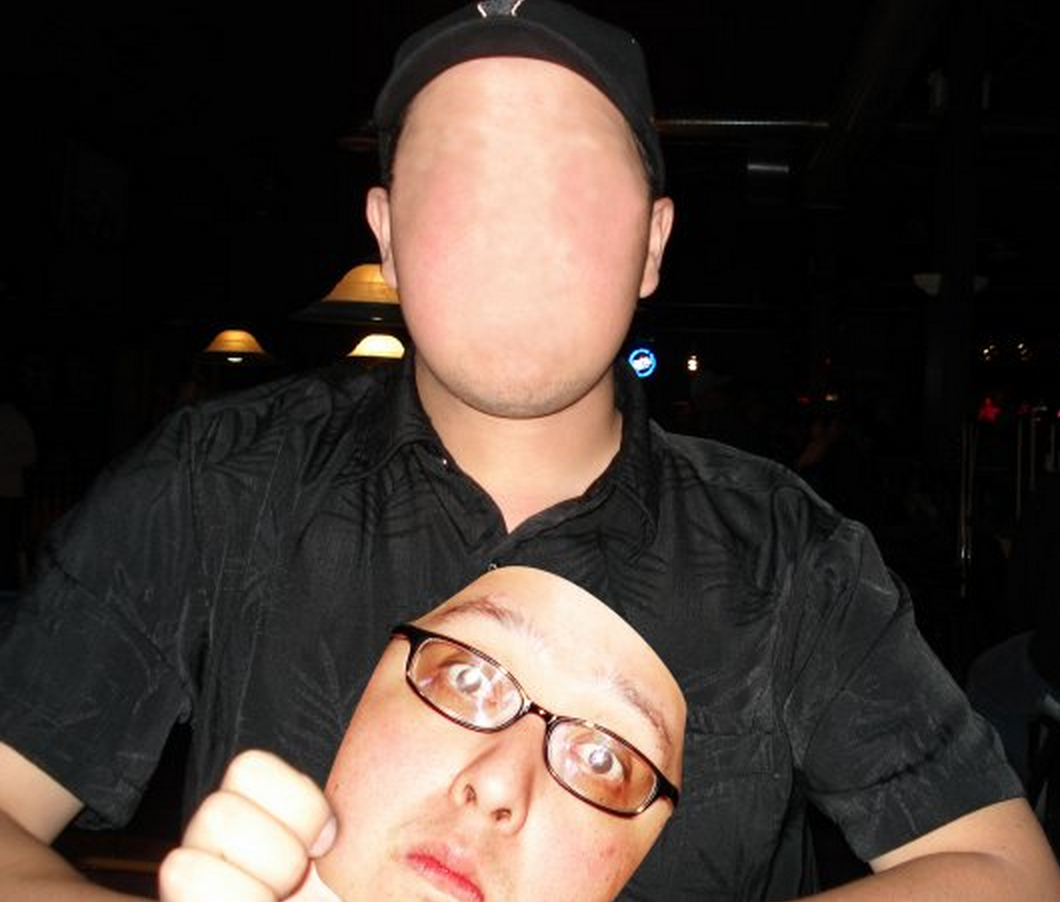 Artie Martin
Artist
Arihwayens – Mohawk Turtle.  His name is an old Mohawk Turtle name which means, "He lays down the business".  His english name is Artie Martin.
His informal creativity led him through various mediums of art including theatre – acting & directing, screenplay writing, guitar playing, & hip hop.  He appreciated every creative effort and absorbed any new skill set working with others, subsequently refining his own visual and conceptual vocabulary that emerges through his work now.  He is a founding member of the multi-award winning hip-hop group Tru Rez Crew, co-founded the world's first Indigenous adult-oriented publication – Redskin Magazine, and as of recently, he is a business owner of Redwhip, VIP – Video, Illustration, Photography.
He has two college diplomas in Business Administration & Graphic Design and is currently studying Mohawk language at Onkwawenna Kentyohkwa Adult Immersion. He currently sits on the Haudenosaunee Grand Council Delegation of The Great Law of Peace Recital as their Creative Director, overseeing video, sound, and promotions.  He is a videographer for a local ghost hunting group S.N.I.P.E..  And, he manages a yearly non-profit Zombie Run to help a selected community member in need.
Artie gained a majority of his work experience at the Kawenní:io Language Preservation Project over a 10 year span.  There, he assisted first language speakers in the development of educational resources for immersion school teachers (k12) across all Haudenosaunee territories.  His other work can be found throughout the Grand River Territory via logos, flyers, arena boards, t-shirts, songs, video, and community events.

Artie Martin from LTTA on Vimeo.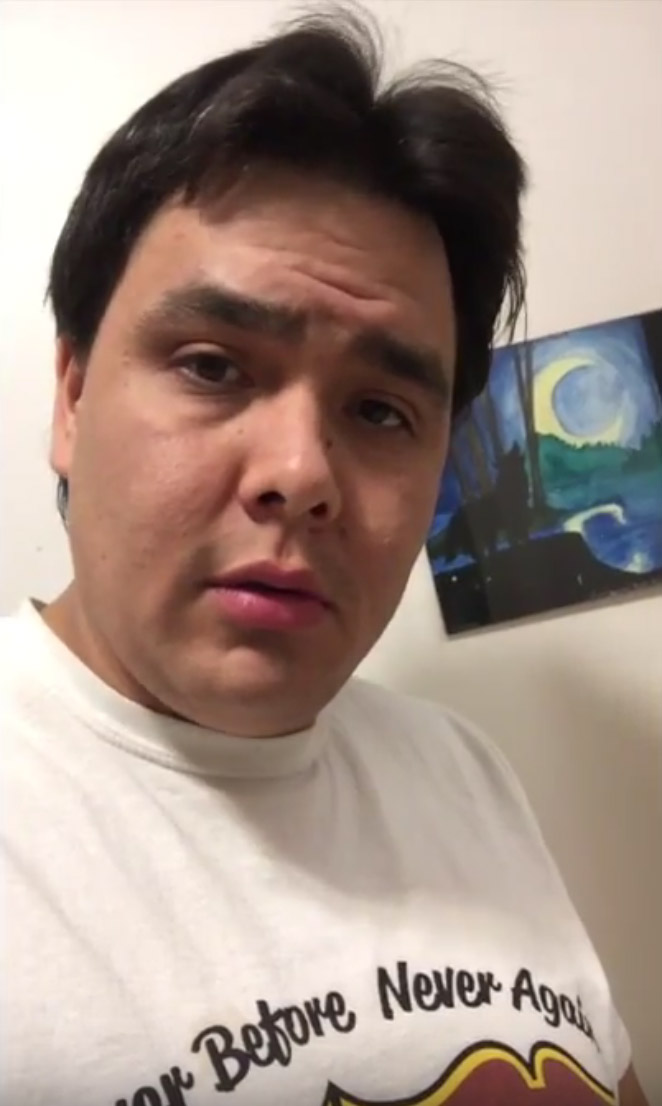 Wesli Day
Artist
Wesli Day is an video and hip-hop artist from Serpent River First Nation, in Northern Ontario.
David Lyle
Artist
David is an award winning director and songwriter, classically trained pianist (RCM), union actor and a skilled teacher/coach and performer. He is the co-founder of dB digital TV and has been an integral part of Artists Rendering Tales Collective Inc. since its inception in a variety of roles covering many disciplines.
David is the host of a new documentary called "Nations At War" on APTN, a Regular on "Health Nutz" also on APTN, and appears in many other popular TV shows.
He was born in Vancouver BC and raised in New Westminster and as the Artistic Director of New Westminster's Hyack Festival.
He is looking forward to getting back to his roots.
http://www.imdb.com/name/nm0528093/?ref_=nv_sr_1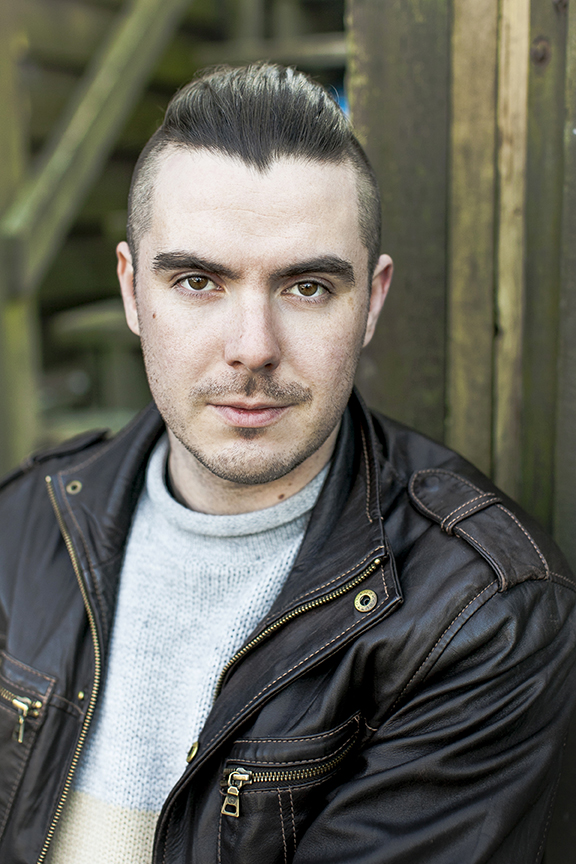 Deneh'Cho Thompson
Artist
Deneh'Cho Thompson
Deneh'Cho Thompson is a director, actor and playwright based in Vancouver. Since 2009 Deneh'Cho has been developing an artistic practice that focuses on new play development and centres the values of reciprocity, respect and reflexivity.
In 2017 Deneh'Cho appeared on stage in the world premiers of REDPATCH, by Sean Oliver Harris and Reas Calvert, and Thanks for Giving, by Kevin Loring.
Deneh'Cho's directing credits include The Girl Who was Raised by Wolverine (written by Deneh, and winner of the 2016 Fringe new Play prize), The Dudes of My Life by Christina Andreola, and The Governor of the Dew by Floyd Favel. The Girl Who was Raised by Wolverine was presented at the Vancouver Fringe Festival 2016 and Weesageechak Begins to Dance 29, 2016.  Deneh teaches youth and community theatre workshops throughout the lower mainland.